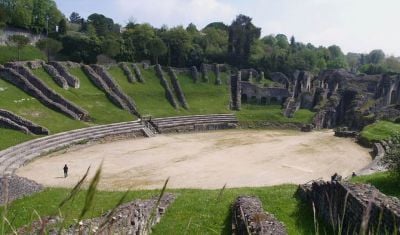 Visit Saintonge, between land and sea
Located in the heart of the Charente-Maritime, the town of Saintes is ideally located with other tourist spots such as La Rochelle, Royan and Cognac located nearby. Located between land and sea, discover an authentic region.
Places to visit by the Sea
Would you like to visit the beach, try some oysters or go on a boat trip? The Atlantic Coast is full of beautiful places to visit, the chance to take in the sea air!
Maritime cities: Royan (41 km away), La Rochelle (73 km away)
Islands: Oléron (50 km away), Aix (62 km away) and Ré (97 km away)
Places to visit on land
If you prefer to be on dry land or to enjoy cultural activities, the region also offers something to satisfy your love of nature and discovery. Walk through the vineyards, enjoy some tastings, visit historical sites and museums or climb aboard a barge to visit the Marais Poitevin.
Cognac with the François 1er château and its vineyards (28 km away)
Niort, its plains and the Marais Poitevin (75 km away)
Angoulême, the comic book town, its historic old town and ramparts (72 km away)