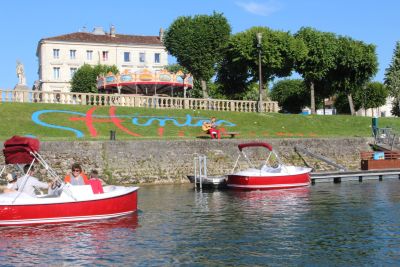 Things to do in Saintes
Market days in Saintes
There are markets every morning, except on Mondays:
Tuesdays and Fridays: Saint-Louis site – Place du 11 Novembre (in the car park of the old hospital, 10 min on foot from the hotel);
Wednesdays and Saturdays: place Saint-Pierre (by Saint-Pierre cathedral, 2 min on foot from the hotel);
Thursdays and Sundays: avenue Gambetta (on the main avenue just after the Palissy bridge, 5 min on foot from the hotel).
Monthly fair in Saintes
The great monthly fair is held on the 1st Monday of each month (Cours National and avenue Gambetta, in front of the hotel).
WARNING !! ·
The 1st Monday of each month Parking is prohibited from Sunday evening to Monday on the Cours National & Avenue Gambetta. Arriving at the hotel on the 1st Monday of each month is slightly modified : you must go through Rue Victor Hugo, the secret code to access this pedestrian street will be given to you on your arrival date.

Market every Wednesday and Saturday: Parking is prohibited from the evening before (Tuesday Friday) on the "Place de la Cathedral St Pierre".
River cruises
La Gabare "Ville de Saintes" : The barge embarks you every summer (May to September) for cruises from 1h to 1h30. Climb aboard this traditional wooden boat and let yourself be rocked by the Charente river.
Le Bernard Palissy III: cruises aboard a boat 100% solar powered and silent. A wide choice of cruises (from May to September)
Les canotiers : From the port of Envaux, rent boats without a license for 4 to 10 people, from one hour to the full day.
E-boats: From June to September in Saintes, rent an e-boat, a small electric boat without a license and sail freely. You will embark for 40 minutes or 1 hour of easy navigation on the Charente river.
Going out in Saintes
The Gallia Théatre offers a wide range of shows: theatre, music, dance, conferences, available to everyone. Open October to May, 67 bis, cours National – +33 (0)5.46.92.10.20
The Abbaye aux Dames where you can enjoy classical music concerts all-year-round. 11, place de l'Abbaye – +33 (0)5.46.97.48.48
The Festival of Musical Academies, during which you can attend baroque, romantic and contemporary concerts. 10 days in July, every year since 1972.
The Vegas complex which houses 2 restaurants and a 10-room, 5-style nightclub. Open Wednesday-Saturday evenings, located at ZAC, La Champagne Saint-Georges – +33 (0)5.46.97.00.00
Bowling, open every day, 2 p.m. – 2 a.m., 19, rue des Rochers – +33 (0)5.46.95.04.04
The Gallia Cinéma, open all year, daily shows – 67bis, cours National – +33 (0)5.46.92.20.32
Atlantic Ciné, open all year, daily shows – ZAC, La Champagne Saint-Georges – +33 (0)5.46.92.49.60
Local producers
Family Valein Tercinier producer of Cognac and Pineau des Charentes for 5 generations proposes visit of the distillery and direct sale - 05.46.92.64.30.
Maison Grosperrin - visit the last Cognac house located in Saintes, on the banks of the Charente! Independent house and family, the house Grosperrin is dedicated to the selection and the breeding of rare cognacs, old and vintage - 05.46.90.69.03.
Mass and religious services
You can attend mass in one of the following remarkable places of worship:
Saint-Vivien Church 2nd, 3rd and 4th Saturdays, at 6.30 p.m.
Saint-Pierre Cathedral or Abbaye aux Dames every Sunday, at 10.30 a.m.
Saint-Eutrope Church 1st and 3rd Sundays, at 11 a.m.