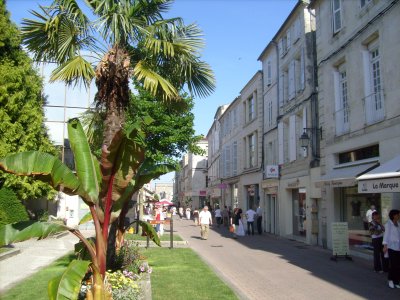 Discover the town centre of Saintes
A town of art and history, the capital of Saintonge will surprise you with its rich history and way of life. Known as a veritable jewel of Roman art in Poitou-Charentes, Saintes has also preserved its Gallo-Roman roots. Located on the banks of the Charente, Saintes boasts a green and picturesque landscape, which makes it ideal for a relaxing holiday. Here is a list of sites and monuments to visit in Saintes and its region as well as ideas for outings.
Monuments to visit in Saintes
Abbaye aux Dames
Arch of Germanicus
Gallo-Roman amphitheatre
Saint-Pierre cathedral
St Eutrope Church and crypt
Historical museums and sightseeing ideas
Archaeological Museum : Mediolanum, the ancient Saintes, was one of the largest cities of Roman Gaul. How did its inhabitants live? What did they eat? What games did they play?
Museum Saintongeais : he life of the peasants of Saintonge from 1850 to 1930, through their work and related trades. Discover their daily life and their home. Exhibition of outfits and lace headdresses.
Museum of the Echevinage : Paintings, sculptures and ceramics follow one another in this old town hall from the 16th and 18th centuries, nestled in the heart of the main pedestrian street of Saintes.
The gardens of hostellerie : Open to visitors every day from Tuesday to Saturday. Entrance through the media library, place of the échevinage.
The touriste train : cruising the city from May to September, the little train offers a circuit from 40min to 1h.
For additional information on all these sites, do not hesitate to contact directly the Tourist Office of Saintes - Place Bassompierre, 17100 Saintes - 05.46.74.23.82